News
Defence Forces procure four new Leopard 2L Armoured Vehicle-Launched Bridges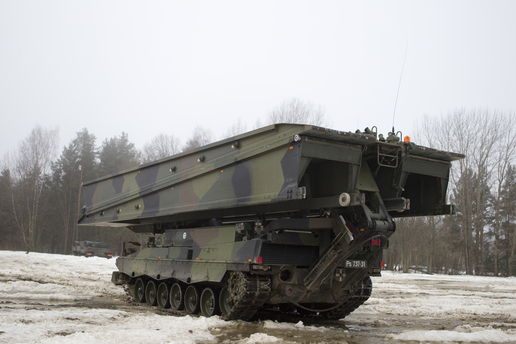 The Finnish Defence Forces' Logistics Command has received a mandate from Minister of Defence Jussi Niinistö to conclude a contract with Patria Land Systems Oy to procure Armoured Vehicle Launched Bridges (AVLB).
The Defence Forces will purchase four new Leopard 2L AVLBs which can operate Leguan bridges of varying length. The ALVBs will be based on the hull of the previously procured Leopard 2A4 tanks. Operating capacity for bridges of varying length will be also acquired for the six Leopard 2L AVLBs and nine SISU E15TP-L bridging vehicles, procured in 2004-2008.
The overall value of the procurement without value added tax is about EUR 28.6 million. It is part of the programme to develop the territorial defence combat system and especially the mobility of troops.
The deliveries of the new AVLBs as well as the upgrades of the previously procured AVLB and the SISU E15TP-L bridging vehicles are scheduled to take place in 2019-2021.
The estimated domestic employment effect, including additional procurement reserves, is 55 person-years.
Inquiries: Senior Government Adviser Jouko Tuloisela, Ministry of Defence, tel. +358 295 140412, and Inspector of Engineering Colonel Matti Lampinen, Army Command Finland, tel. +358 299 800 (switch board).